Gulong gorge glass Grand Canyon: also known as Yuntian Boba, it is the world's first high-altitude sightseeing glass combination integrating glass platform, glass trestle and glass cable bridge. At the same time, it integrates high-altitude challenge products such as 5D rupture effect, glass corridor, glass steps and flying micro step. Glass Canyon is located at the top of wanzhangya waterfall, where you can see the cliffs and waterfalls. Our colleagues are very brave, walking on the glass bridge, no fear, enjoy taking photos, enjoy~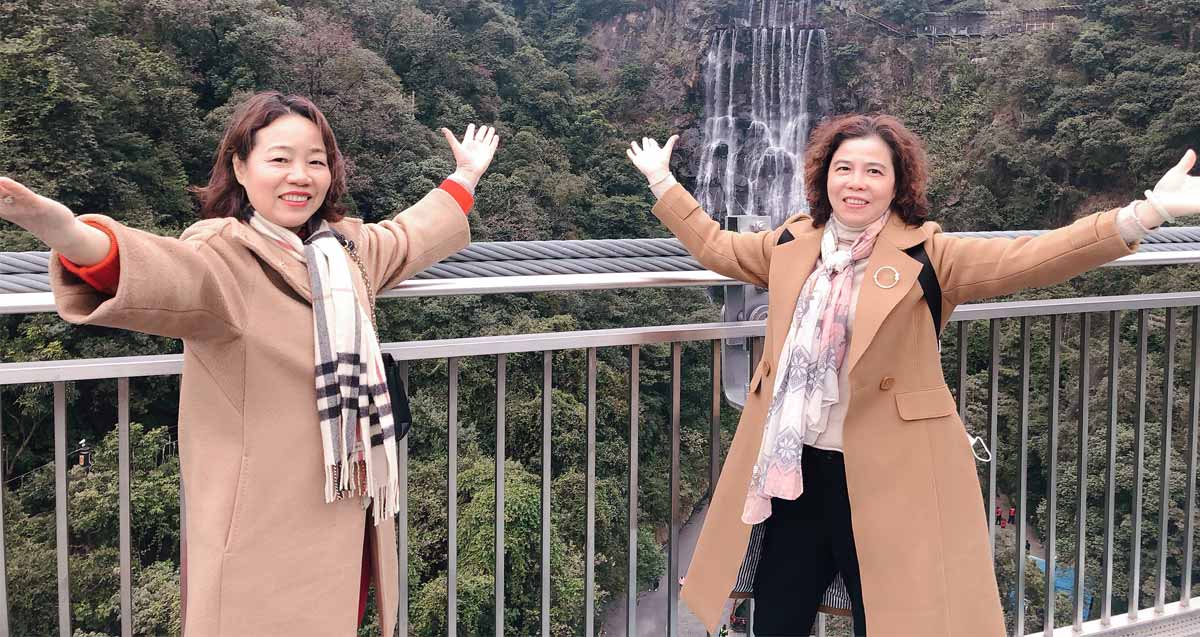 At the end of the exciting and spectacular Gulong gorge glass Grand Canyon, we come to the most famous xinyinzhan hot spring resort. Qingyuan is known as the "hometown of hot springs in China". To travel in Qingyuan, we must feel the happiness and joy brought by Qingyuan hot springs. All kinds of high-temperature pools, large pools, small pools, more than 60 pools for you to soak in. You can enjoy the treatment of "hot spring water gliding and fat coagulating" in the hot spring pool, and feel tired.
Xinyinzhan Hot Spring Resort
Nongfu Manor - CS human field - SUV
After breakfast, we go to the mysterious farmer's manor, another wanghong punch point in Qingyuan, a dream manor like a secret garden, plant maze, fruit manor, animal world (parrot house, gesanghua, Butterfly Valley, pigeon square, rabbit paradise, ostrich garden, Peacock Garden), children's paradise, and enjoy all kinds of flower sea, flower art, and intimate interaction with all kinds of small animals , experience rural life, create the most beautiful rural garden in Qingyuan, let you feel the beauty of nature!

CS field operations

The field layout of real-life CS is to imitate the modern military field. Let's test your team and leadership ability in the real simulated combat environment, and test your on-the-spot response in the constantly changing combat environment. In this way, you can experience the stimulation of shuttling in the bomb forest. It can also be used as a way of entertainment and relaxation. You can innovate in sports and improve the team spirit in the fierce competition.
All terrain four wheel off road vehicle

The circuit is the largest and most powerful cross-country base in Qingyuan City. As a star project, the dynamic cross-country racetrack has introduced a variety of metal warrior cross-country vehicles made of high-strength and lightweight alloys, integrating their performance, lightweight, strength and comfort. We put on good equipment and are ready to go. We have experienced an exciting and wild traffic jam. We can only run two laps, which is far from enough!